Age catches up with us all, and if old age has slowed down your mobility, check out this article for the top 10 wheeled walking frames and walking sticks to help you get up and going. You do not need to stay locked and isolated at home when you have the help available to maintain your independence with a walking aid. No doubt, you want to enjoy this gorgeous summer weather and get your daily dose of the sunshine vitamin D – which maintains strong bones and teeth. A walking stick is great for those with arthritis, and for elderly people who need added support.
We will provide the top ten walking aid products together with its pros and cons to help you make an informed decision on what will best suit your budget and style in terms of walking sticks and wheeled walking frames.
1. Days Lightweight Folding Four Wheel Rollator Wheeled Walking Frame With Padded Seat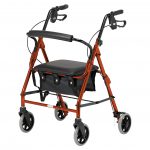 Perhaps you struggle with walking, and you need a wheeled walking frame with a seat for regular rest. The Days lightweight folding four-wheel rotator walker has lockable brakes, ergonomic handles, and a carry bag too. It is available in four sizes – extra small, small, medium, and large. Its mainframe is available in quartz and five other funky colours – ruby red, russet orange, blue, racing green, and purple.
This wheeled walking frame is safe to hold a weight of up to 165 kg or 26 stones, so it is incredibly sturdy, and an affordable price at under £70. Its height is easily adjustable and has five height settings at one-inch intervals. Its ergonomic handles make it easy to grip, especially for elderly men and women with arthritis or a weak grip. It is also lightweight and easy to fold and transport and comes with its own carry bag. This item features a three-year warranty.
Pros:
Good for shopping
It is a helpful aid for the disabled
Sturdy and well built
Cons:
It weighs 6.5kg and some people thought this was too heavy for transportation
The large-sized rollator is as large as a wheelchair, one customer commented
2. BeGrit Unisex Folding Cane Adjustable Lightweight Folded Walking Stick Cane With LED Light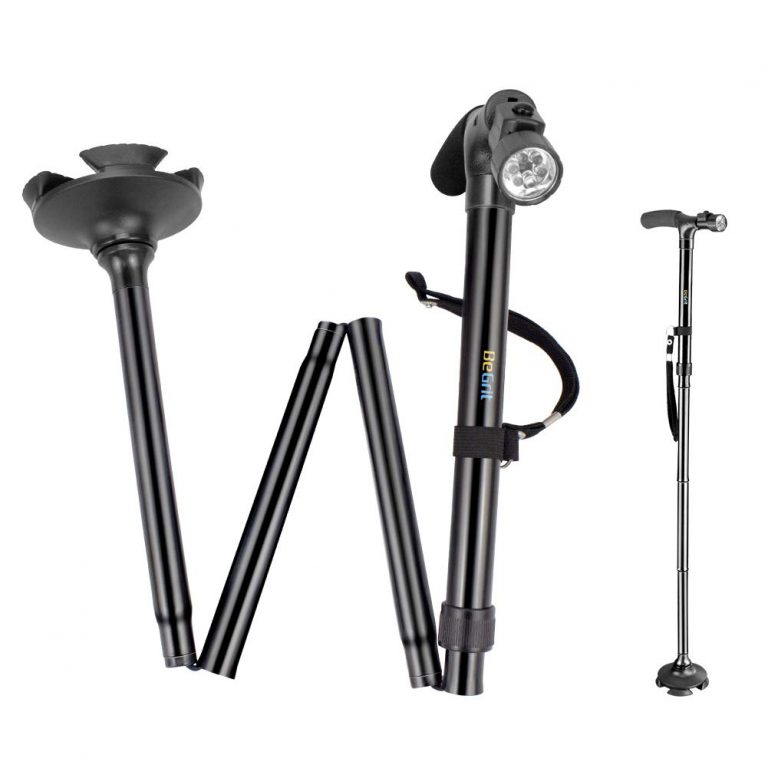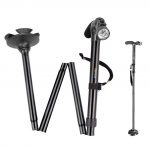 This affordable walking cane features a built-in LED light, plus it folds down for easy storage. It has an adjustable height from 34 inches up to 39 inches. It folds up easily and fits easily into any normal-sized bag during bus rides. Its handle is ergonomic and provides maximum safety for its user. When not in use, the walking cane can stand upright too. Batteries are included.
Pros:
This is a supportive walking stick that pivots perfectly
The LED light is helpful and not too bright
Features a helpful wrist strap too
Cons:
Some customers have reported that the bottom base came loose
There are 45 critical reviews on this product
3. Homecraft Folding Three-Wheeled Rollator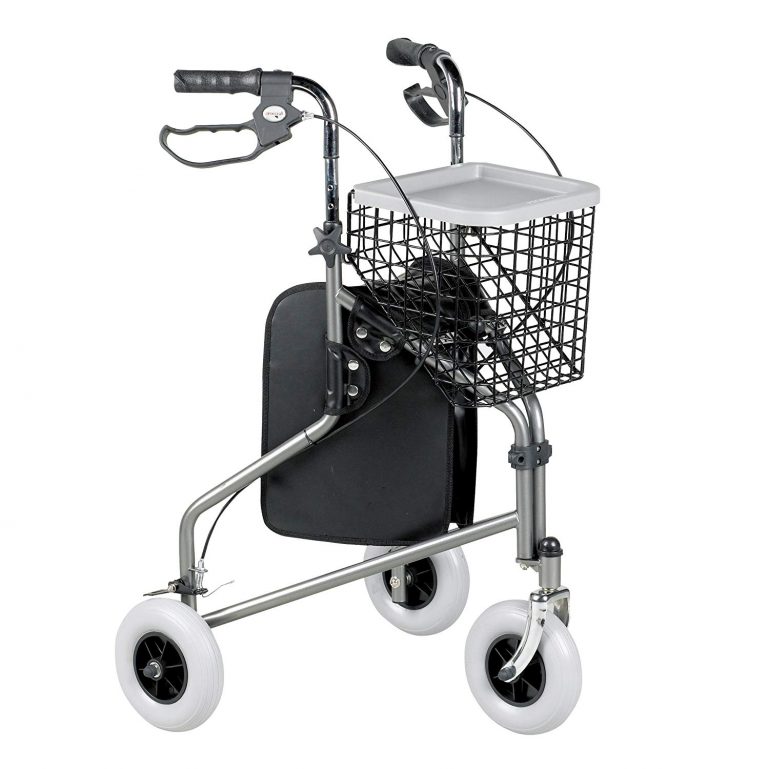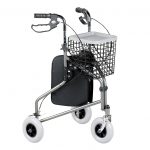 This slim designed wheeled walking frame features three wheels and simple to operate loop brakes, which provide quick stoppage, plus the wheels also lock into place for added security. Its frame comes in two colours – quartz at under £60 and ruby red at £86. It is easy to fold and transport and can hold a weight up to 125kg, which is lighter than most walking frames. Its thick rubber tyres make this a sturdy walker for both the indoor and the outdoors.
Pros:
Good price and requires minimal assembly
Very easy to use
Good strong brakes
Cons:
One customer said that it was too heavy for travelling via bus, although it has a sturdy walking frame
4. Solid Brass Dachshund Dog Head Walking Cane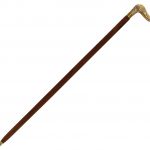 If you like quirky then you will love this solid brass 37" rosewood walking cane at under £16. This is a great fashion statement, plus a helpful walking aid for elderly men and women.
Pros:
Good quality and screws in half
Features a weighty solid brass handle
Cons:
The base is not very sturdy and may slip on some surfaces
Some customers thought this walking cane was overpriced
5. Drive DeVilbiss Healthcare Ultralight Aluminium Red Tri-Walker With Vinyl Bag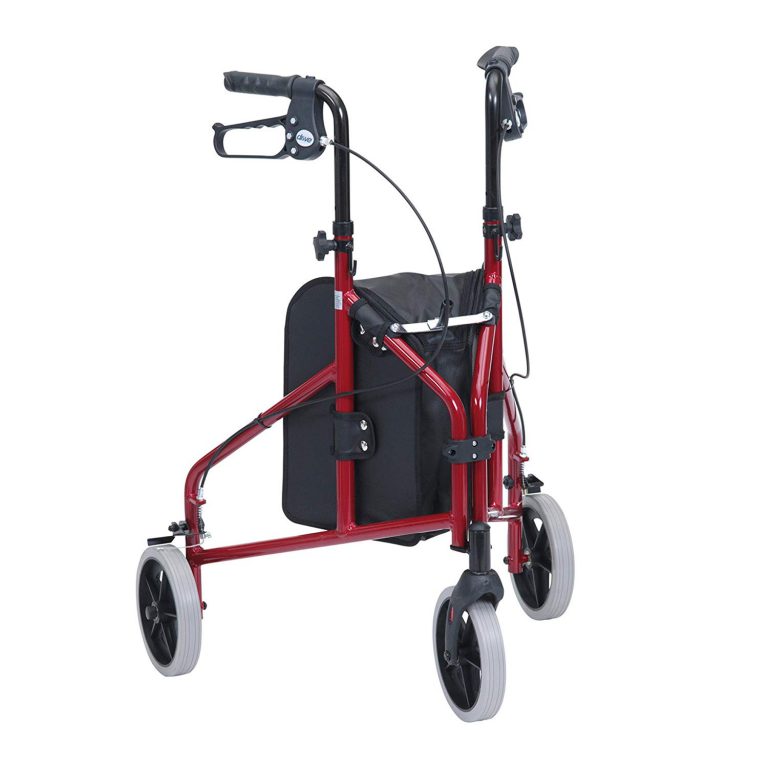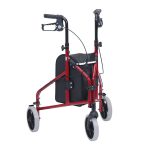 If you want a sturdy lightweight three-wheeled walking frame that is suitable for everyday indoor and outdoor use, purchase this affordable Drive DeVilbiss tri Walker. Made of robust aluminium with an eye-catching red finish, this walker is only 5kg and easy to transport. Its brakes are easy to activate and lock for added safety. This features a handy carry pouch.
Pros:
One customer mentioned that it was 'amazingly lightweight'
Lightweight to carry on and off the bus
Excellent quality
Cons:
One customer mentioned it was not easy to assemble
6. Homecraft Contoured Grip Non-Folding Walking Stick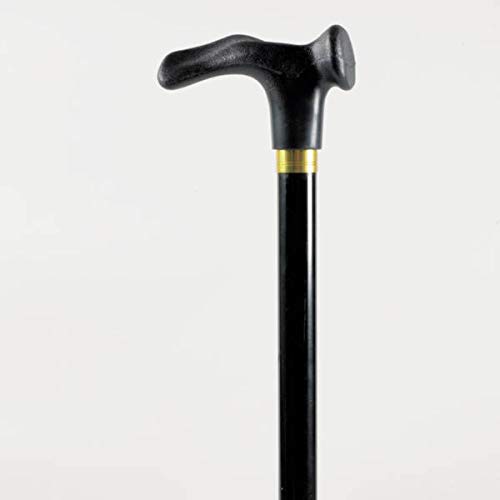 This walking stick is available for both left-handed or right-handed persons, plus it is easy to purchase the correct walking stick to suit your height. It features a contoured grip handle for added support for those with arthritis or a weak grip for easy manoeuvre. Those who experience pain in the hands will find the handle comfortable to grasp as the weight is transported across the entire palm, rather than a selected part of the hand. This walking cane is great value at under £15.
Pros:
This walking stick has no 1-star reviews
The handgrip is comfortable for those with pain in their hands
It features a hand strap too for added support
Cons:
One customer was not too comfortable with its handle
7. NRS Healthcare Compact Easy Rollator Foldable Wheeled Walking Frame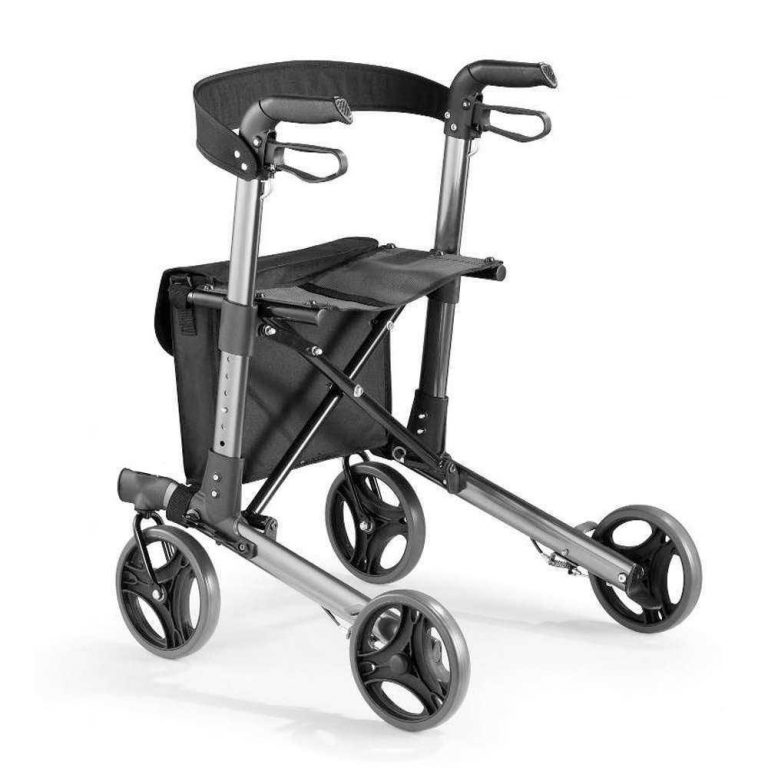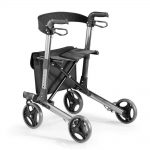 This walking aid holds a max user weight of 136kg or 21 stone, and it has an adjustable height from 31.5 inches to 37 inches. It is lightweight and folds down for easy storage and transportation. Its easy-grip handles provide good support for those with a weak grip, and it features a loop brake system. It is safe for indoor and outdoor use and features a shopping bag for the elderly who like to shop alone and maintain his or her independence. The added mesh seat provides easy rest.
Pros:
Simple to transport on and off buses
Easy to use and folds easily
Sturdy well made walking aid
This product has no 1-star reviews
Cons:
It is heavier than other wheeled walkers at 8.5kg
One customer reported that the wheel fell off after only a week, but the seller issued a replacement promptly
8. Hurrycane All Terrain Walking Cane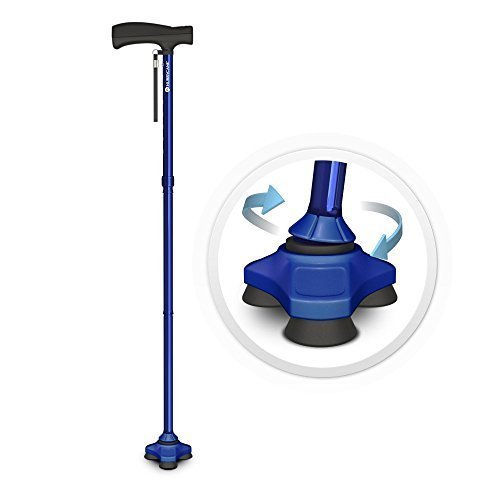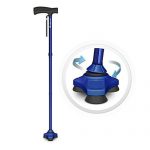 This all-terrain walking cane is affordable and has eight convenient height adjustments. It features a 360-degree pivoting head for sturdy support while on the move. This cane folds down easily for storage. Finally, a wrist strap and travel bag are included.
Pros:
Customer satisfaction
Very sturdy and easy to use
Good value for money
Cons:
Some customers reported that it did not stand-alone and does not support those with mobility issues
9. Days Essentials Lightweight Aluminium Rollator With Padded Seat and Under Seat Basket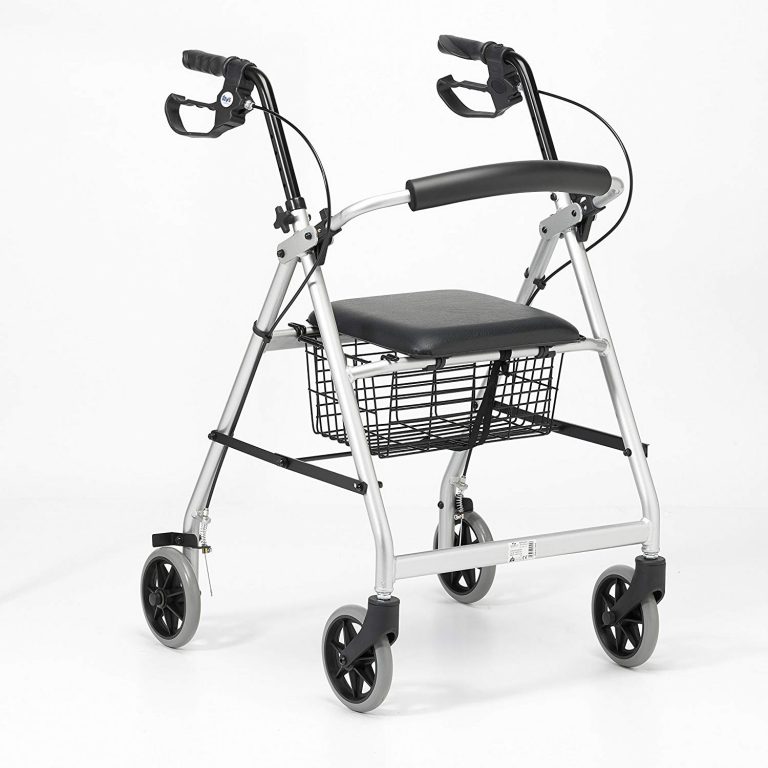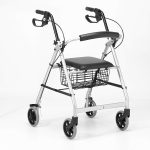 Available in silver grey, this four-wheeled walking frame features adjustable handles and additional back support to accommodate the needs of the user. It features a seat for those who struggle with their breathing and need regular breaks. This wheeled walking frame is lightweight for shopping, as it features an under-seat basket. Unfortunately, this walking aid only supports a maximum weight of 100kg or 15.5 stone.
Pros:
This is one of the more contemporary walking aids
Lightweight and sturdy at 7kg
Cons:
One customer reported a problem with brakes
Not safe on uneven surfaces but good on smooth surfaces
This wheeled walking frame is not suited for men or women who weigh over 15.5 stone
10. World's Smallest Folding Walking Stick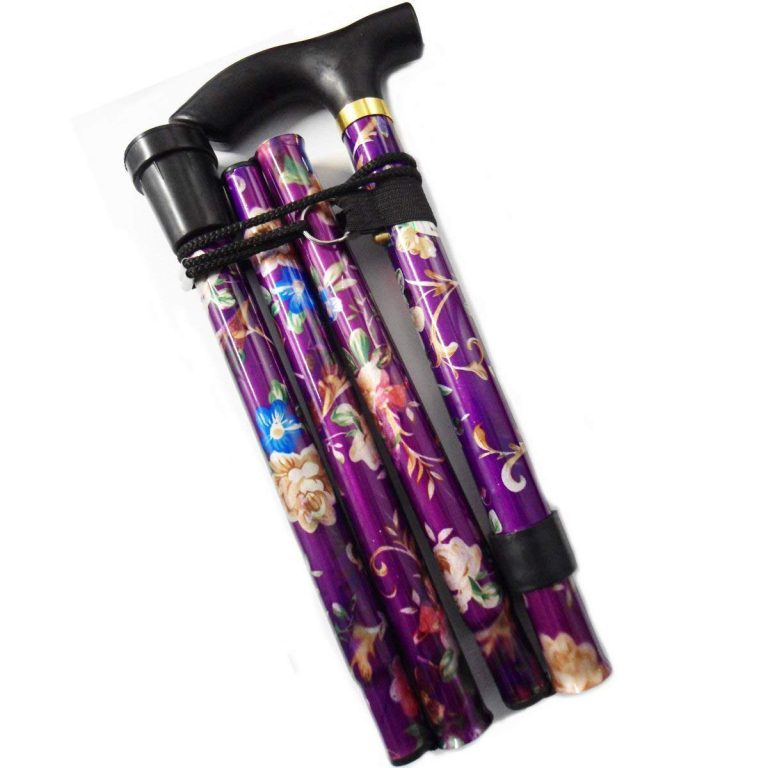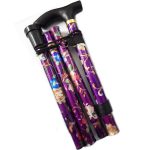 Ideal for women, this purple floral walking stick claims to be the world's smallest folding walking stick. It is a bargain at under £4 and is the best seller at Amazon.co.uk in walking sticks. Ideal for home or travel use, plus it extends to full length at 32 inches to 35 inches. This walking stick features a non-slip rubber tip, and it is comfortable and lightweight for easy travel.
Pros:
Over 70 per cent of customers gave it a five-star rating
Compact and lightweight
Stylish and affordable
Cons:
Some customers reported that it had defects
The paint on the walking stick may transfer onto your hands, several customers reported
To Summarise
Walking sticks and wheeled walking frames are a great investment to help elderly men and women remain mobile. We have provided a list of the top five wheeled walking frames and five walking canes all under £100 that will help you to regain your independence and walk in comfort and style.