If you are a keen gardener and want to source the best tall plants for shade, look no further than this article. Ideally, you want to pot plants that are easy to care for in shady areas. This article will cover the recommended houseplants for the home and the garden that thrive in shady spots.
Best Tall Plants for Shade in Pots
1. Dracena Marginata (Dragon Tree)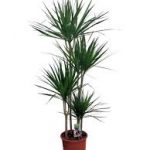 A beautiful tall plant to have in your home is the dracena marginata, otherwise known as the dragon tree. It has a beautiful green shade on its leaves, with a spiking appearance, which only indicates its health. They are a good potted plant and will add freshness and appeal to your home. They are normally available to buy from any good garden centre, or online, but it may require a repotting as the roots grow larger over time.
Water it regularly in the summer seasons, and less frequently in the winter months. Try to mist the leaves to moisten the leaves and keep them dust free. With regular care and nourishment, the dracena marginata makes a great tall plant for shade in the home.
Please note: This is just one variety of dracena, as there are many.
2. Schefflera 'Nora' (Umbrella Tree)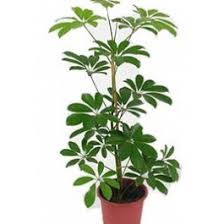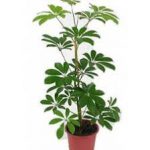 This houseplant is attractive and surrounds its strong stalk. It survives well in a lighted area of the home, but also indirect light. Its height grows to approximately 70cm.
If your home is small and you want a tall plant that is compact and pretty, the umbrella tree is an easy plant to care for, even in shady areas. Even if it is neglected for a while, this plant is forgiving and will not endure much long-term damage. Mist the leaves regularly to keep them dust free and to improve the plant's humidity.
3. Fatsia Japonica (Spider's Web)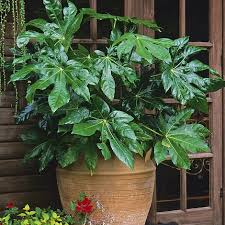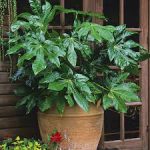 An attractive plant for the home, the fatsia japonica grows to approximately 35cm, and it is best planted in moist well-drained soil. Keep it away from direct sunlight, and ideally in a well-ventilated room away from central heating in the winter season. Feed it with general-purpose fertilizer during the spring and summer months, but reduce its water and feeding during the winter months. Repot the plant in the spring, and mist the leaves regularly to maintain adequate moisture, and to eliminate dust buildup.
Fast Growing Tall Plants for Shade
4. Luzula Nivea (Snowy Woodrush)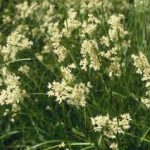 This hairy leafed plant survives well in a partial to full shady garden. Plant it in a moist to well drained moderately fertile humus rich soil. It tends to flowers from June to July and will provide attractive ground cover during the year. Loose clumps are formed from its slender hairy leaves, which then form elegant white flowers.
The only work necessary for snowy woodrush is dead heading, which is necessary if you want to keep the clumps smaller, although this is entirely unnecessary as this plant self-seeds freely.
5. Acanthus Mollis (Bear's Breeches)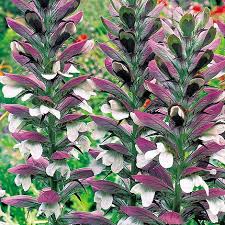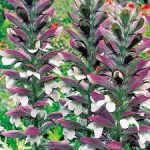 This fast growing garden plant does well in a partial shade of the garden, and it is ideally planted into fertile well-drained soil. It flowers in July to August and grows deep lobed leaves that grow up to 1m long forming dainty clumps, which then flower in the late summer season. Almost two-tone in effect, the acanthus mollis plant is attractive and a good tall plant for the shade. Water the plant well during the hotter, dry seasons, and rejuvenate the leaves by dividing the larger clumps in the autumn / spring seasons to minimise excessive growth.
6. Llex Altaclerensis (Hybrid Hollies)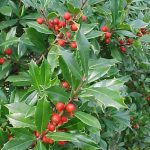 These dainty flowers grow up to 1.2m and grow well in shady areas. These hybrid hollies are more enduring than its native llex aquifolium, and survive well in all seasons. They are colourful when planted in a border, and can be grown in a partial to full shade.
Best Tall Plants for Shaded Porch
7. Monstera 'Monkey Mask' (Mini Swiss Cheese Plant)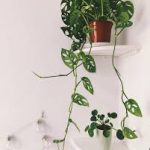 If you want a fast growing houseplant, opt for the monstera 'monkey mask' plant, which has various sized leaves that contain a collection of irregular shaped holes. It may be turned into a climber plant, with the relevant support in place, otherwise this plant will continue to grow and spill over, making it a good plant to place on a windowsill in a shady porch or conservatory area. Keep it in the light but away from direct sunlight and mist the leaves regularly. Keep the soil moist, but do not overwater. They are not expensive to buy from the garden centre.
Larger monstera deliciosa plants are available, if you have the space and these grow up to 1.7m in height. A larger Swiss cheese plant may require repotting with regular growth, which is definitely a two-man job.
8. Yukka Elephantipes (Spineless Yucca)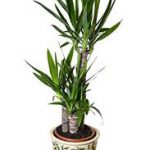 This striking plant grows to approximately 95cm and makes an effective tall plants for. Their hardy leaves bode well throughout the year with regular watering, although reduce this in the winter months. They are good to place in any area of the home, but they can tolerate the sun well, so a porch or conservatory placement would suit it well.
9. Phyllostachys Nigra (Bamboo)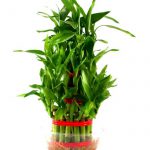 The bamboo plant grows to great heights, and is one of the best tall plants for shaded porch areas. They do not require much watering, and they are fast growing. Once the plant has grown to a substantial height, use canes to keep the leaves straight and encourage growth.
Have you seen those 'lucky bamboo' plants at your local supermarket? Do not be put off by its size, as this small plant can be repotted and will thrive to a good size within a few months. Place the bamboo in you conservatory or a shady porch.
10. Zamioculcas Zamifolia (Black Fern Arum)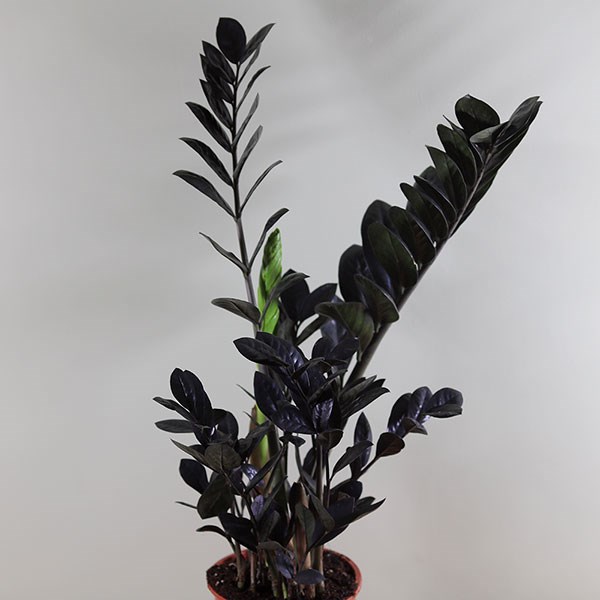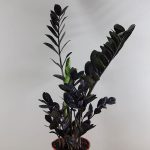 The black fern arum is an attractive house plant that grows well in a light shady area. Although it is slow to grow, its leaves are fleshy and palm like, and over time this unusual specimen of plant develops into to a darker chocolate shade. It grows to approximately 70cm and is good to place on a table in the porch or the conservatory.
It is important not to over water this plant, but check the top of the compost is dry before you water again. During the winter periods, you can water less. To keep the leaves dust free, mist the leaves regularly. As the plant increases in size, repot the black fern every few years in the spring season.
To Summarise
Finding the best tall plants for shade in the garden or the home does not have to be difficult. With the right soil in your garden, you can gain attractive ground cover with various plants, like hybrid hollies, snowy woodrush and bear's breeches, which are each fast growing plants that grow well in the shade. The spider's web and dragon tree (there are many varieties of the dracena) are two of the best tall plants for shade in pots because they grow to a good size, add colour and attractiveness to the home, and cleanse the air. Finally, the best tall plants for shaded porch are the yukka plant, the mini swiss cheese plant, and the black fern.
Visit your local garden centre, or shop online, to shop for your gardening plant supplies, and treat your home to some healing green plants that will serve you well for years to come. Houseplants also make a great gift idea for gardening lovers.