Lucky you if you have a garden. Aluminium garden furniture will surely brighten up your garden, and we shall answer some of the common questions that you may have. Unfortunately, due to today's economic climate, most families have to downsize their property, and a garden is not one of the luxuries they get to enjoy. Some people live in high-rise flats and may never be blessed with their own garden. Most people who live in apartments enjoy a communal garden, but there is nothing better than having your own private garden, adorning it with pretty flowers, and fruit trees – if you have the garden space, and of course, brightening up your area with aluminium garden furniture or rattan garden furniture.
Toward the end of this article, we are going to provide some top picks for aluminium garden furniture to fit within your budget.
What Is Aluminium Garden Furniture?
Summer is the perfect opportunity to enjoy your garden space, and when you want to style your garden with affordable furniture that is built to last – aluminium garden furniture is inexpensive and stylish. The British weather is known for its consistent wet spells (even during the warmer months), and aluminium furniture is ideal for damp weather for this due to its anti-rust finish.
Kit out your garden with aluminium garden tables, chairs, and suites. Aluminium furniture is resistant to cracking, will endure use after use, and is the perfect choice for busy families who enjoy dining in the outdoor weather.
Some aluminium furniture may need to be assembled by hand, but once it is completed, it is easy to move. This means that if you prefer not to keep the furniture out during the winter months, it can be easily moved indoors, or stored in a shed (if available).
Aluminium furniture is safe to store on the patio or grass, and it is lightweight enough to move around without the risk of pulling your back.
Cast iron aluminium is constructed through a process called casting whereby molten aluminium is transported into a mould and produces resilient aluminium furniture. Tubular aluminium is also common and is light and easy to shape and form. Finally, wrought aluminium is used to complete Victorian style metal garden furniture that has a similar appearance to wrought iron garden furniture.
Does Aluminium Garden Furniture Rust?
Aluminium furniture has a built-in anti-rust finish, so it can be doused with a garden hose, but avoid using a pressure washer on the furniture as its intensity may damage the anti-oxidising finish upon the furniture. For mild stains use a soft anti-abrasive cloth and cleansing agent that is free of TSP, ammonia, or soda-based.
Look for furniture that has a powder-coated frame, or cast aluminium, as this has a built-in finish agent to prevent it rusting. You may have to remove cushions to effectively clean the furniture, but this will keep your furniture looking good.
A bonus tip after cleaning your furniture is to apply a small amount of car wax or even baby oil on a dry cloth and rub over the aluminium furniture to give it a healthy shine. Alternatively, purchase a wax finish product that is suited for aluminium garden furniture.
It's good to know that your aluminium furniture will not rust but to keep it looking brand new, clean it regularly and apply specialist wax to enhance its finish.
Does Aluminium Garden Furniture Get Hot?
There are limitless style options of cast aluminium furniture, and there is no need to worry about the furniture heating up in the summer months, as aluminium actually disperses heat, rather than stores it. While other metal furniture can heat up to scorching temperatures, aluminium garden furniture is very safe to use in all seasons.
How Do You Protect Aluminium Patio Furniture?
Aluminium furniture is safe for use in all seasons due to its anti-rust and anti-rot finish. When exposed to air, aluminium furniture develops a microscopic layer of oxide upon its exterior, which acts as a barrier to protect the metal from weather elements and corrosion. It is sturdy enough to stay in place during the windier weather, but also lightweight enough to transport, should you ever want to move it to another part of the garden.
Also, try to prevent any scratches or markings upon your furniture, as this may cause corrosive damage during wet weather. Use a wax finish on your aluminium furniture to keep it looking shiny and new, and especially coat any scratches or marks to prevent further damage.
Weather pollution can affect the surface of your aluminium garden furniture, so you may want to smooth its surface with steel wool and soap. However, do not apply this technique on powder-coated aluminium furniture. Instead, use a soft cloth and water to wipe down your furniture.
Top Picks
Naples Round Aluminium & Rattan Garden Dining Set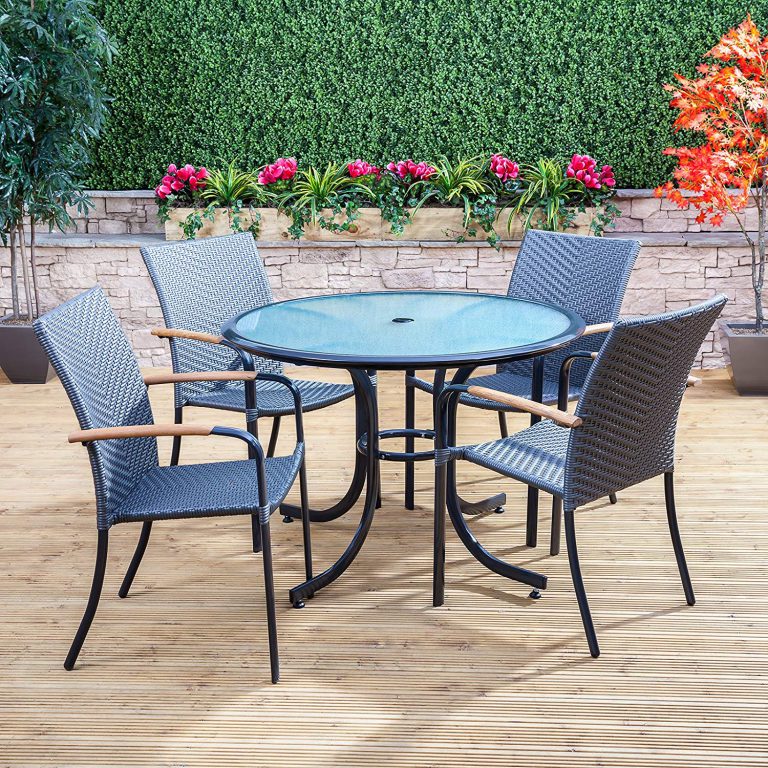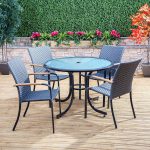 This affordable four-piece dining set features aluminium frames and all weatherproof rattan wicker. The round table has frosted safety glass, and a parasol can be added to the centre of the table to provide shade during the warmer months. This is an affordable family dining set at under £250.
2. Lazy Susan Sand Cast Aluminium Garden Bench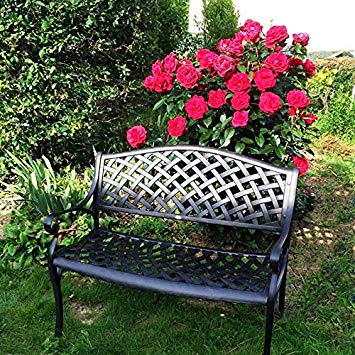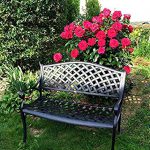 An affordable sturdy aluminium garden bench that is built to last, this Lazy Susan weatherproof bench fits into any garden space. It has a powder-coated finish to protect from the weather elements, and it is available with or without a cushion. Easy to assemble and comfortable too, this Lazy Susan bench has a 12-month warranty too.
3. VonHaus Rattan Garden Furniture With Aluminium Frames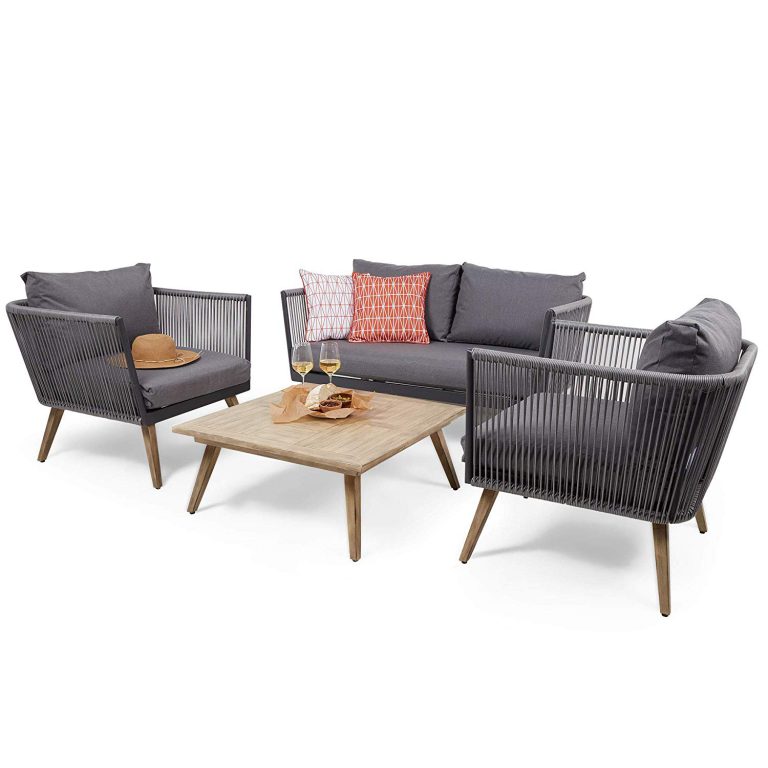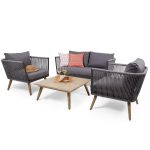 This stylish four-piece garden furniture set features a two-seater sofa, coffee table, and two comfortable armchairs. It has aluminium frames that look wood-like, and its design is retro and contemporary. The cushions are weather resistant and safe from rain, snow, and other weather conditions. It is easy to assemble and comes complete with a 2-year manufacturer warranty.
4. Charles Bentley Metal Cast Aluminium 7-Piece Garden Furniture Set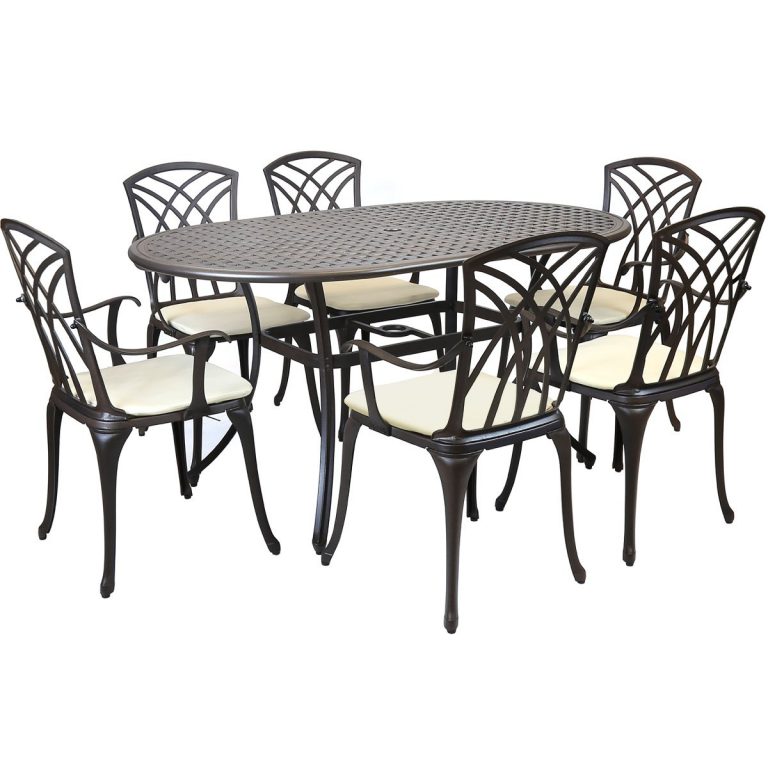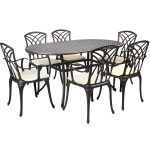 Perfect for larger families, this 7-piece garden furniture set by Charles Bentley is both affordable and built to last. The centre of the table has a hole, which can fit an umbrella or parasol to provide shade from the warmer weather, and it features six chairs with polyester removable cushions for easy washing.
5. Deuba Garden Table & Chairs Dining Set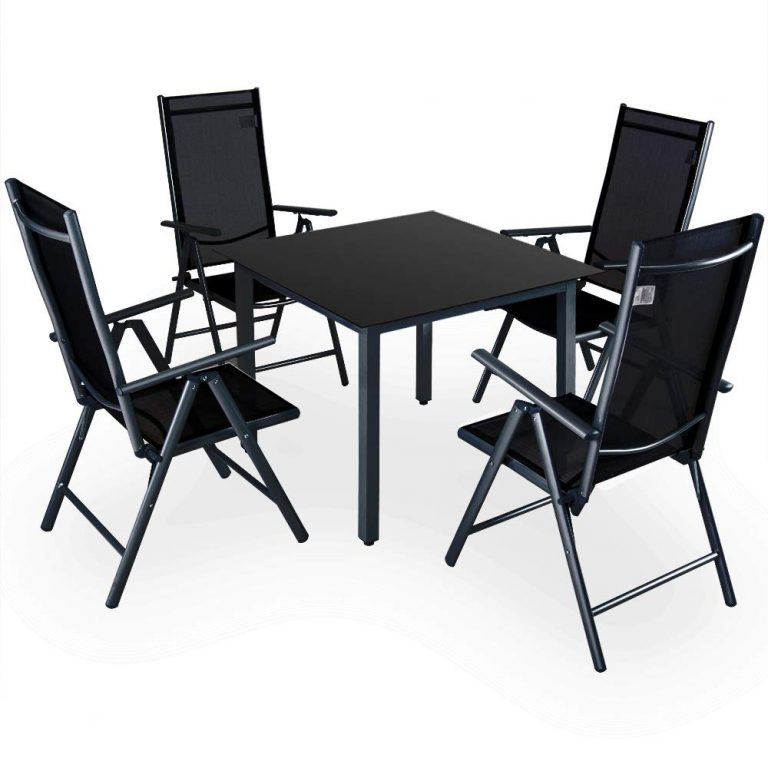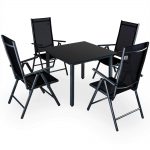 This five-piece dining set features a table and chairs with aluminium-coated frames and four foldable chairs. It is lightweight to move, very easy to clean, and effortless to maintain. It may be kept outdoors as well as indoors. The chairs are made of weather-resistant materials, so therefore safe for outdoors. The black shade is contemporary and modern for aluminium garden furniture. This is the perfect garden furniture set for BBQ weather, and affordable too.
6. Charles Stanley Side Table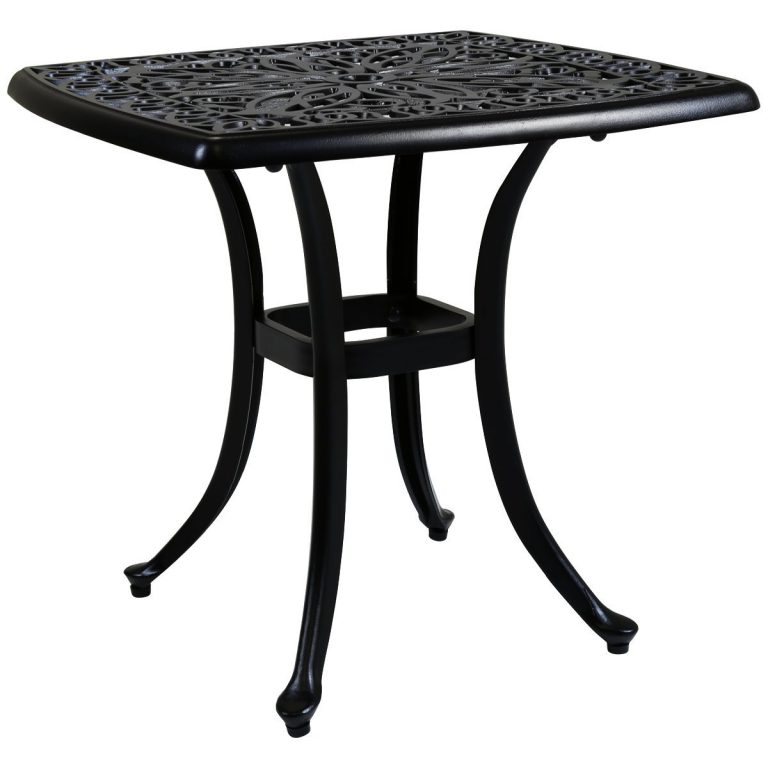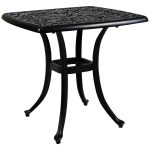 Customers love this Charles Stanley cast aluminium weatherproof side table, which is affordable and stylish. The table has intricate detailing, hardwearing cast aluminium, and is easy to both clean and maintain. Although it does feature some home assembly, instructions are provided and it has a 2-year manufacturers guarantee.
7. TecTate Corner Sofa Aluminium Luxury Rattan Garden Set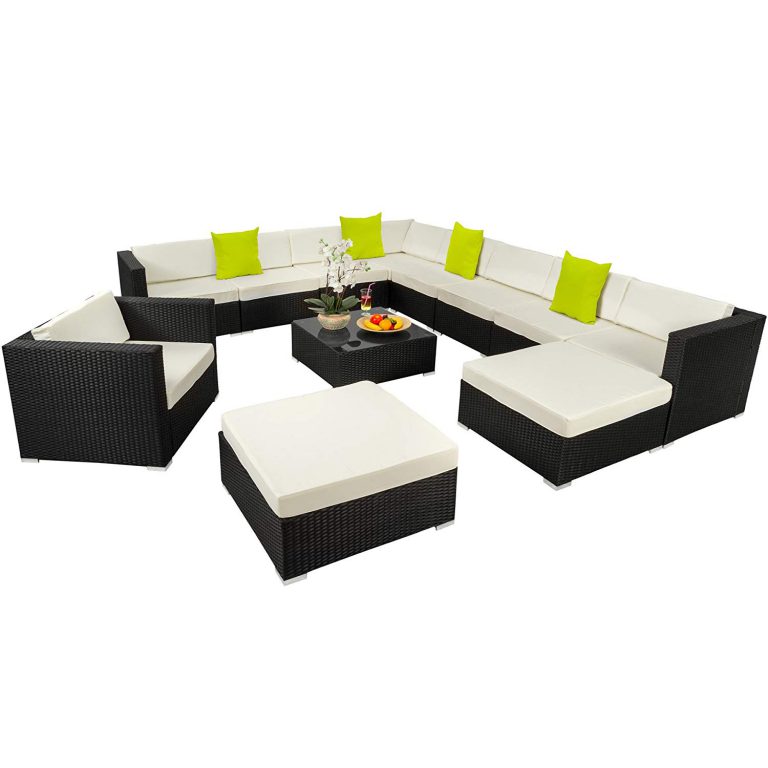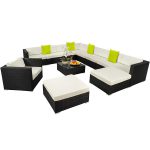 If you have the available garden space, this TecTate XXL aluminium framed luxury rattan garden furniture sofa set features a long corner sofa, table, and chairs for the ultimate in luxury garden furniture. This set features an aluminium frame and soft detachable cushions that are easily removed and washed. It is both stylish, contemporary, and a worthwhile investment for larger families.
To Summarise
Aluminium garden furniture is a good investment, as it is weatherproof, rust-free, and is lightweight to transport. It is available as dining sets, benches, tables, and even corner suites. Aluminium furniture is easy to clean and maintain and will provide years of comfort and durability.