Garden weeds are indeed a pest that you will have to grow used to in your garden or allotment. You pull them out by hand and they grow back equally as fast. A great investment for your garden or allotment is an electric weed burner, which will annihilate your garden weeds faster than manual labour.
Check out this article for our review of the 7 best electric weed burners to tidy up your garden or allotment in minimal time.
There are various electric weed burners available to suit your budget, including a gas flame gun, heat gun, garden blowtorch, and thermal weeder. We will cover all of these in this article.
Gas Flame Gun
Using a butane gas canister, the gas flame gun is an easy way to kill weeds in your garden and allotment fast. Gas flame guns are inexpensive at under £10, and some may even include a free can or two of butane gas for ease of use. A gas flame gun is an effective tool for killing weeds at an allotment, as electricity is not often accessible.
Heat Gun
If you want to scare your weeds into halting growth, invest in a heat gun. They are affordable but require electricity for use. Cordless heat gun varieties are available, which is a handy tool for a garden allotment.
Garden Blowtorch
A garden blowtorch is great for use in the garden or allotment, due to the use of its butane gas, which provides a flame to destroy weeds. This tool has a lightweight extended handle for safety and is also environmentally friendly and free of chemicals. Weeds are exposed to such high heat that their internal cell structure withers and dies within a day or two. Prices start from under £20.
Thermal Weeder
If you want the king of electric weed burners, the thermal weederis what you want to invest in. They are larger than the other electric weed burner varieties mentioned but are safe to store in a shed, or some varieties arrive with a heat stand for cooling. Again, no chemicals are required to kill the weeds, just the power of heat and electricity. These are extremely safe to use in the garden without the risk of a fire. Thermal weeders feature a directive cone, which targets the weed directly to destroy its root. Thermal weeders may not be the best choice for allotments, as they require electricity to work, and there are no cordless varieties.
The Best 7 Electric Weed Burners
Want to kill weeds dead without bending down or physical exertion? Consider one of these top electric weed burners.
Bergman Electric Weeder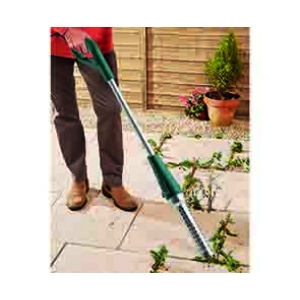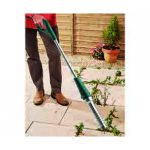 The Bergman electric weeder is a good investment when you want to keep your garden, drive, and patio weed free. It has a long extendable handle to reduce pressure on the back, and this weeder effortlessly burns weeds with just the press of a button. It does run on electricity, so is not suitable for use at an allotment. Your garden is kept free of harmful chemicals with this handy weed zapper. The Bergman electric weeder is available to buy from The Expert Verdict and Scotts of Stow.
Pros:
Great for gardens, patios, and driveways
Zaps weeds with the touch of a button
Cons:
Only available to buy at selected stores
Not suited for allotments
Scotts of Stow Electric Weeder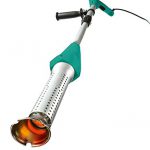 Keep your garden and drive weed free with the Scotts of Stow electric weeder, at under £50. Effective on weeds like dandelion, this electric weeder effectively cauterises weeds directly to their roots. It features a protective cone, which protects the head from causing accidental damage to close plants.
No harmful chemicals are required with the Scotts of Stow electric weeder, and its handle extends so you don't need to stretch or bend down either. Letsshop247 recommends the Scotts of Stow electric weeder as one of the best electric weed burners for effective weed killing.
Pros:
Affordable
Effectively cauterises weeds
No harmful chemicals necessary
Long extendable handle for ease of use
Cons:
Electric corded so unsuitable for allotments
Garden Gear Weeder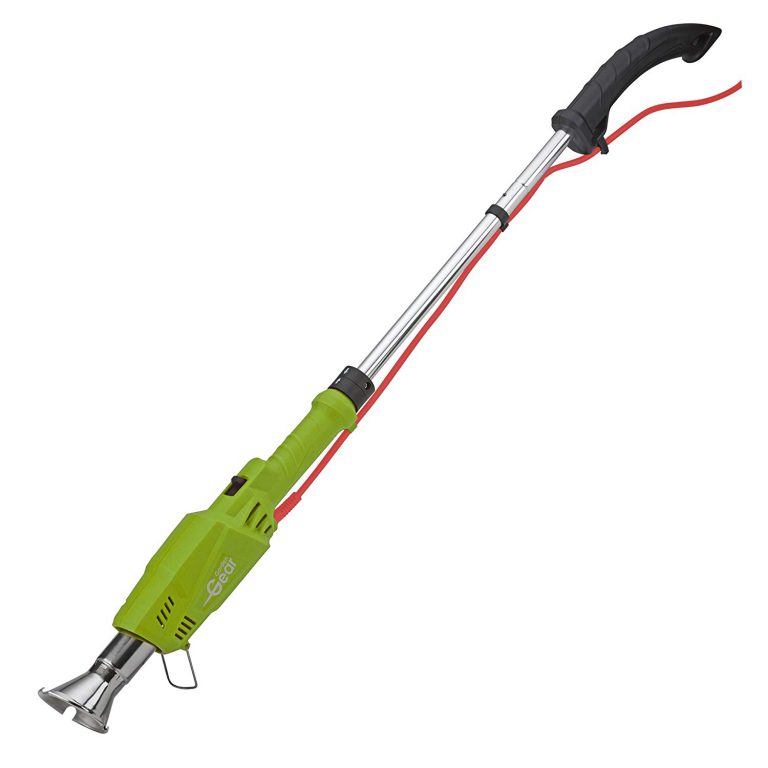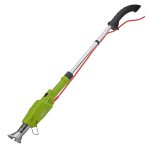 At such a low price, the Garden Gear weeder cauterises weeds at up to 650 degrees and is a great investment for your garden, patio, and driveway. It features an extra long nozzle to prevent bending. This environmentally friendly garden weeder eliminates the use of harmful chemicals and keeps gardens tidy and free of weeds. There is no need to worry about any damage to surrounding plants, as its directive cone targets only where you focus it. It features a 24-month guarantee.
Pros:
One of the more affordable electric weed burners
Simple to assemble
Lightweight and easy to use
Treats weeds at up to 650 degrees
Cons:
Can get overheated and take a while to cool down
Some customers reported that holding the device too close reduced its power. Ensure that you hold the device 2 to 3 inches away from the weeds for best results.
Wolfgang Electric Flame Gun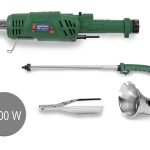 Lightweight at only 1kg and affordable at under £36, the Wolfgang Electric Flame Gun features a myriad of tools for effective weed killing in your garden and surrounding areas. It is extremely safe to use, and it's flame gun renders effective for starting barbecues and briquette lighting. This flame gun heats up to 600 degrees for fast weed burning.
Pros:
Weighs only 1kg
It has multiple uses, including burning weeds and lighting barbecues
Affordable and reaches temperatures of 600 degrees for effective weed killing
Cons:
Some customers reported that it is not suitable for use for longer than two hours due to overheating.
Tooltime UK 2000w Blowtorch Wand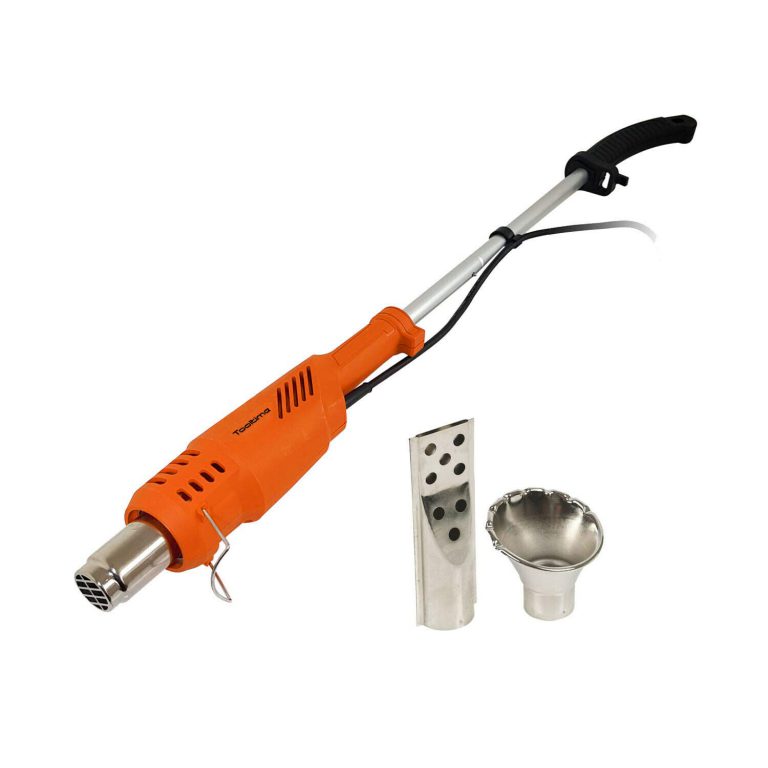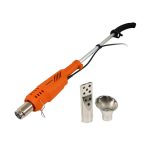 This blowtorch by Tooltime UK is affordable and heats up to 650 degrees. It is lightweight and easy to use. It also features an integrated stand for an effective cool down after use. Target weeds in your patio, driveway, and garden.
Pros:
Kills weeds effectively in only 15 seconds
Has an ergonomic handle design
It weighs less than 1kg
Temperature reaches up to 650 degrees
Cons:
Customers report that it does not come with a British standard plug, but European standard.
If you use this tool on your lawn, it will kill the surrounding grass, according to one customer.
Nasum Heat Gun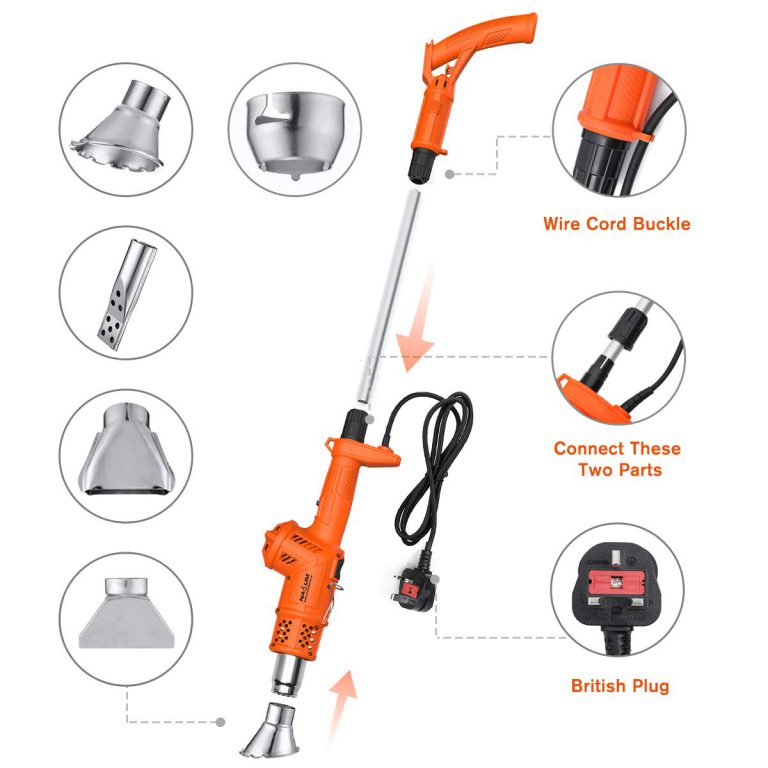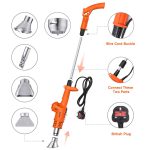 This heat gun reaches up to temperatures of 650 degrees making it an effective tool for annihilating weeds. It treats driveways, paving stones, and stone curbs and has an extra long 1.8m cable. Features five nozzles that treat various areas of the garden.
Pros:
One customer reported that it reaches temperatures hot enough to destroy weeds. Also works effectively as a barbecue lighter
Feature 5 nozzles
Has an extra long 1.8 cable
Cons:
One customer reported that it was slow to heat up
Hozelock Green Power Thermal Weeder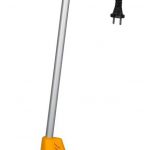 Although one of the more expensive electric garden burners, the Hozelock thermal weeder destroys plant cells and weeds in only seconds via a thermal shock that reaches up to 600 degrees. It has a protective shield to protect from any nearby plants. Requires no chemicals and is safe for use on patios, paths, and driveways.
Pros:
This product has very positive reviews from satisfied customers
Easy to use for people with physical ailments who struggle to bend down.
Cons:
Some customers reported that it did not work as effectively on larger weeds.
Has a short cord
In Conclusion
We have provided a review of 7 of the best electric weed burners available on the market today, with prices to suit your budget. Keep your gardens, patios, and driveways weed free with an electric weed burner built to last.