Have you ever used a hand weight like a dumbbell? Perhaps you want to build your wrist strength or improve bone density in your older age, then read on to discover the best dumbbells for small hands, whether you are new to weights, or you have years of experience with weights.
Dumbbells are versatile and provide a thorough heart-pumping workout to burn calories. They will tone your biceps, your triceps, your back, your chest, and your shoulders. One of the best dumbbells for small hands is a neoprene weight, which is available from a light 0.5kg to a muscle fatiguing 5kg. Start light to match your current strength and build up your strength daily with dumbbells.
Dumbbells come in various sizes, and they are freely available in stores like T K Maxx, Amazon.co.uk, ebay.co.uk
, Fitness Superstore, Sports Direct, and through many other online retailers.
Popular Dumbbell Exercises
Once you have purchased the best dumbbells for small hands, try these exercises in sequence to provide a calorie-burning anaerobic workout that will continue to burn calories afterwards. Try a great dumbbell workout by Fitness by Amy, who has a great selection of Kettlebell workouts – once you are ready for heavier weights.
Best Dumbbells for Small Hands – Fitness Mad Neo Dumbbell Pair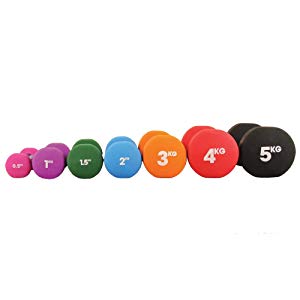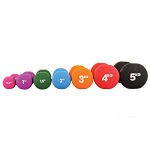 Colourful and available in various sizes from 0.5kg up to 5kg, these dumbbells work well in sweaty hands without discomfort, and they will not roll away either due to their flat bottoms. This makes them an effective tool to use during weighted press-ups. They are affordable and will provide a great arm and shoulder workout. They are also great to use during squats.
These comfortable dumbbells for small hands are ideal for those with a weak grip, but who want to strengthen their grasp. They are available in a range of bright colours, including orange, purple, green, pink, blue, and pink.
For advanced users, why not try running with a lighter weight, or run with a backpack containing a dumbbell of your choice weight, for a great muscle-building workout. These weights are easy enough to use while you are watching TV, listening to music, or waiting for the kettle to boil.
Pros:
Over 80 per cent of customers gave these dumbbells a five-star rating.
Customers say that they are soft and comfortable to use due to their easy grip.
These weights are an effective weight-loss tool.
Cons:
Several customers received damaged dumbbells that broke after short use.
Two different sizes of dumbbell have been sent to some customers.
Core Balance 2 Pack Neoprene Dumbbells For Small Hands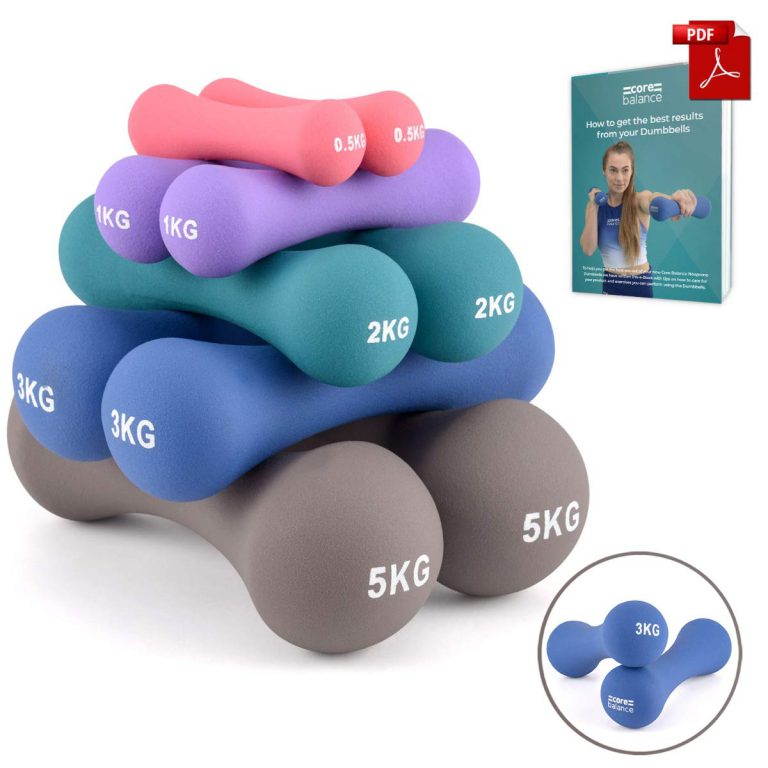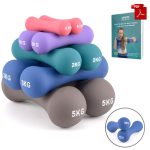 The shape of these dumbbells ensures that they are comfortable for daily use. Whether you want a pair of dumbbells to throw punches with, or to tone up your arms and shoulders, the core-balance neoprene dumbbells do the ideal job. They are low priced and available in a range of colours – blue, green, brown, pink, and purple. The weights range from 0.5kg up to 5kg.
The neoprene coating provides a comfortable grip during workouts, and to prevent discomfort during perspiration. Receive a free eBook with your purchase.
Pros:
Over 85 per cent of customers gave these dumbbells five stars.
These are the ideal dumbbells to use for smaller hands.
Helpful for COPD sufferers and provide an effective workout.
Good design and finish.
Cons:
The colours of all the dumbbells are misleading, one customer says.
Gallant Neoprene Hand Weights Up To 10kg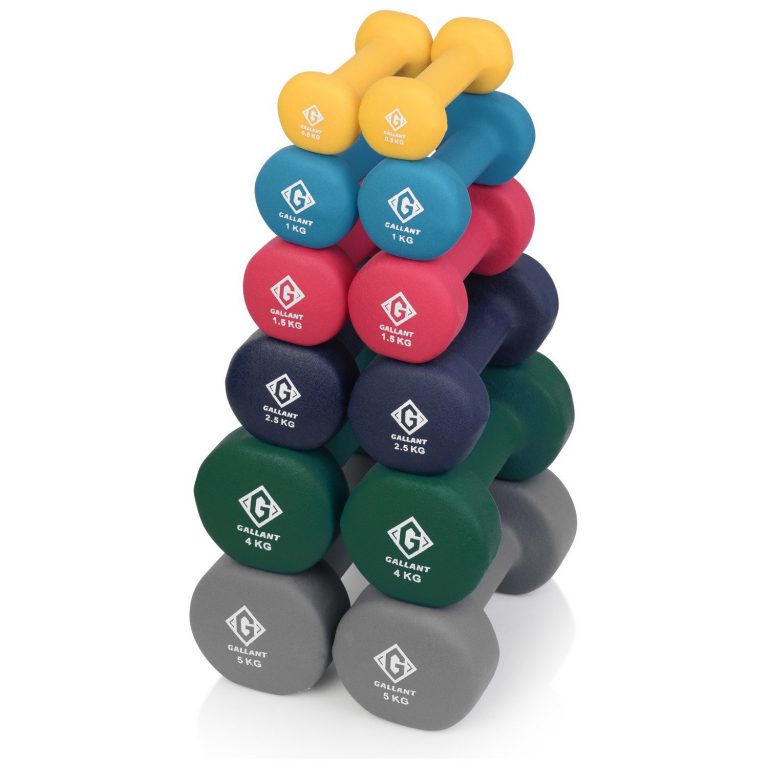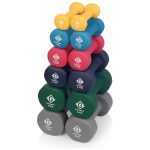 These hand weights range from 1kg up to 10kg, for a thorough advanced workout for lovers of weight training. Comfortable and durable to use during heart-pumping workouts, these hand weights are also affordable and are available in a range of funky colours, dependent on their size and weight. Try the 10kg weights during a squat or press up with weighted pull. These hand weights come complete with a 30-day risk-free returns policy, should you change your mind. Receive two of the same weight.
Pros:
These are a good pair of dumbbells for small hands to strengthen arm flexibility during physiotherapy.
Nice shape and easy to use.
85-per cent of customers gave these hand weights five stars.
Affordable.
Cons:
Some customers reported that the weight they purchased was not posted, but a lighter weight was received.
One customer reported that the neoprene coating had melted.
More than one customer has reported that the descriptions are misleading.
Mirafit 10kg Dumbbells for Small Hands Kit With Carrying Case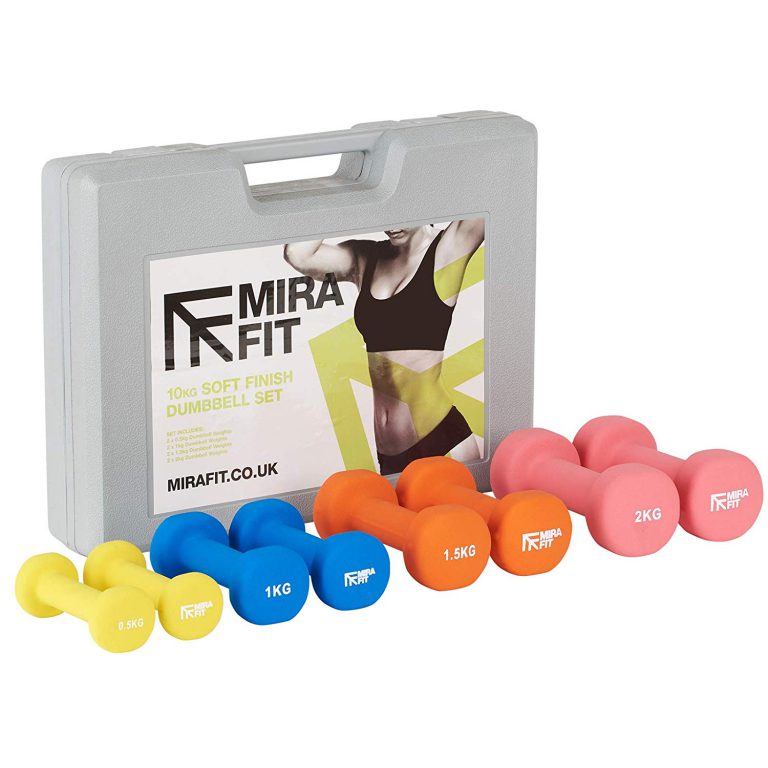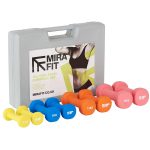 Priced at just £22.99 for two hand weights of 0.5kg, two hand weights of 1kg, two hand weights of 1.5kg and two hand weights of 2kg, this great value dumbbell kit comes complete with a carry case for easy transportation. This eight-piece dumbbell kit has a neoprene finish that provides a comfortable fit during workouts.
Pros:
86-per cent of customers gave these a five-star rating.
Due to the comfort of these dumbbells, they are effective to strengthen an injured arm during physiotherapy sessions.
Easy to store and transport due to the free carry case.
Affordable.
Cons:
One customer reported that the weights were too light, so this is not a good dumbbell kit for an advanced user of heavier hand weights.
Reebok Softgrip Dumbbells For Small Hands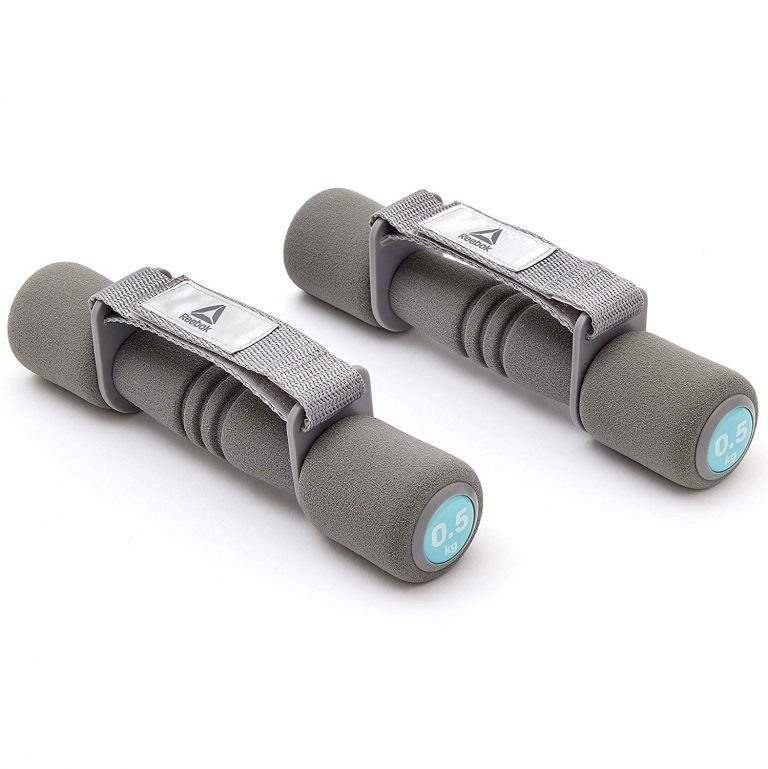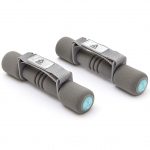 This pair of dumbbells are ideal for beginners to weight training. Simply fit the straps to your wrists and work out comfortably. The 1kg weights will provide enough of a workout to strengthen the wrists and provide effective tone with consistent use.
Pros:
One customer reported that these hand weights were easy to use due to her arthritis, as they do not fall off during the gym workout.
There are only five and four-star reviews.
Cons:
These are more expensive than other hand weights.
Fitness Mad Pro Hand Aerobic Weights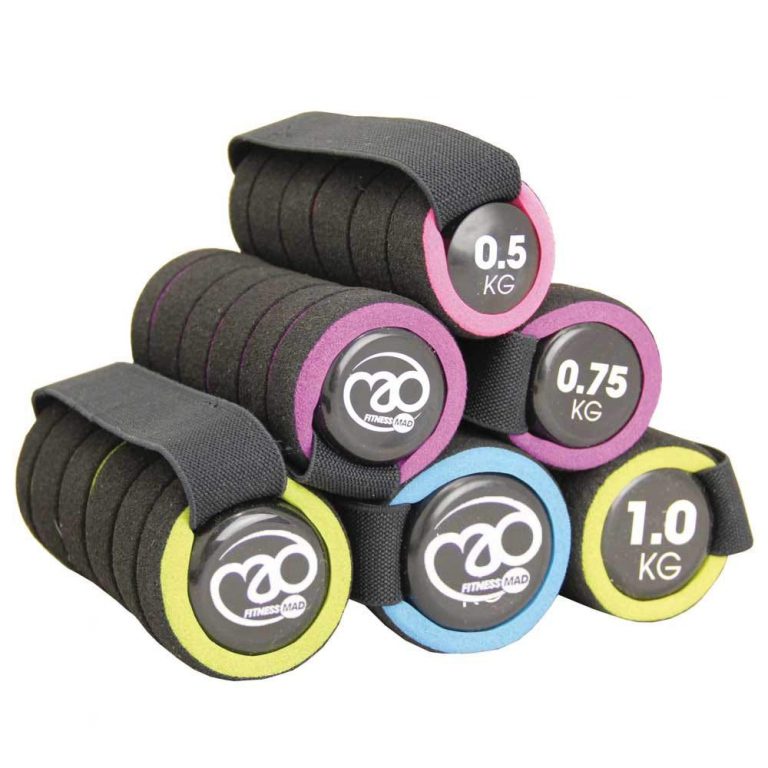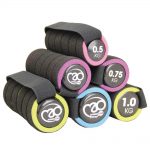 These hand weights are available in 0.5kg, 0.75kg, and 1kg and feature a strap made from steel handle with a non-slip NBR foam covering. They are great for walking and just great for wearing around the house during everyday activities.
Pros:
They provide an effective workout for the arms.
The elastic strap ensures that the hand weights will not drop off during activity.
These aerobic weights are ideal for those who struggle to grip small objects.
These are very effective to use during physiotherapy.
Cons:
One customer reported that they had very fat handgrips.
York Fitness Mini Hand Weights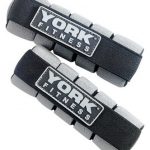 These mini hand weights are available in either 0.5kg or 1kg, and you receive two per order. They provide a thorough arm workout, and the elasticated straps ensure that the weights fit comfortably into the palms of your hands so you don't have to worry about them falling during your activity.
Pros:
Some customers find them comfortable to use during a pilates class.
Good hand weights to use when on a walk.
There are only four and five-star reviews.
Cons:
These York Fitness mini hand weights may be more expensive than similar products.
To Summarise
If you are starting out with weights then you need to find the best dumbbells for small hands at an affordable price. We have provided a list of seven products, together with their positives and negatives to help you make an informed decision. Lighter weights are ideal for those starting out with weights, or those who need to strengthen their wrists and arms due to injury, but there are advanced dumbbell kits that will provide an effective workout for advanced weight lifters. Whatever your choice of hand weight they will provide an effective calorie-burning workout whilst the body becomes more toned over time.